Decompressing through Experimental Uses of RSS
Now Playing: Coldplay - Clocks (Royksopp trembling remix)
Topic: Personal or Reflective
I spent the weekend decompressing (which
I've called detox
in the past but decompression is a more accurate word) by re-reading
The Five Patterns of Extraordinary Careers
.
I've been adrift the last couple of weeks (maybe it's been months) at work and knew that I needed some focus on what I've been doing and what I should be doing. Nothing in any of these career (or self-help books for that matter as well) is profound but you have to stick with it and over time we all lose that sharp focus on being successful, motivated, and happy.
And thinking about the future is usually what reinvigorates me, especially the confluences of the internet, politics, culture, & communication. What do I see as cool apps stemming from the trend called
Web2.0
?
How about using RSS to syndicate different CSS templates that would allow websites to change their look and feel automatically, almost a cross between the
CSS Zen Garden
and podcasting.
Or how about using RSS/XML and APIs from Amazon to automatically cross-reference your public library's book catalog. I googled to find
this post
referencing
Jon Udell starting the LibraryLookup Project
that aims to bridge the gap between your Amazon wishlist and your public library.
Last but not least, my dad just returned from an extensive road trip covering Montana to New York and I had to share this highlight: pig races at the
Bear Creek Saloon & Steakhouse
in Red Lodge, MT. Yes, you can bet on little pigs running around in a circle behind the restaurant (reminds of Mike's stories of
turtle races
in Chicago).
Now before you ask yourself why the hell you would ever do this, you must know that all proceeds from the races (over $61,000 to date) go to scholarships for local kids in the area. What a great way to raise money for a worthy cause and bring in people to your restaurant. I chuckled and had to smile as my dad described it so here's a quick sequence of one of the races.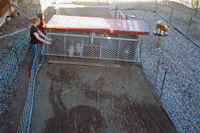 Posted by cph19 at 8:28 PM EDT
Updated: Saturday, 24 September 2005 3:32 AM EDT